Official Manzin Merchandise
I combine shipping for multiple item orders, any overage gets refunded.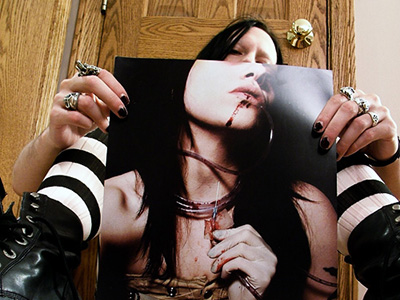 'Voroboros - The Hematophage Poster'
The second run of my "Voroboros: The Hematophage" poster. Measures 11" by 17".
(Note: the first run posters were signed, numbered and individually decorated with no two posters alike. Posters now ship plain/undecorated)
Shipping is included in poster price.
Prayer Card - $10.00 + shipping($2.00)
Inspired by Russian icons and Catholicism, this card has my portrait on the front and an original prayer for guidance and general well-being on the back.
Card measures roughly 4.5" x 6" including lamination.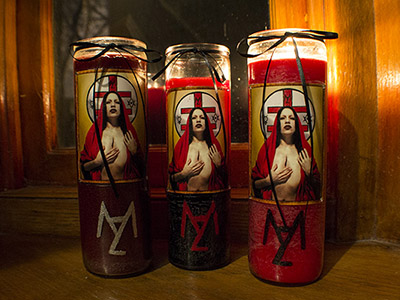 Deluxe 7-day Candles - $23.00 + shipping
No home, altar or dungeon is complete without your very own Manzin candle. Designed to burn for seven days, these candles are adorned with my sigil and photo but are otherwise "naked". Add your own oils, herbs or carvings for best results.
Candles are available in Cherry Red, Black (not shown, will have a red ribbon), White, and Rainbow. Candles are signed on the bottom.
Shipping = $12 domestic via USPS Priority. Orders of 3+ candles will be sent via UPS as it's usually cheaper. I WILL ship internationally via UPS Standard but shipping costs will be higher ($20+) Shipping cost depends on where you're located and how many candles you get, you'll be contacted if there's been a miscalculation.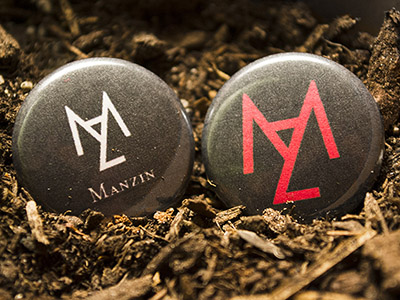 Manzin Buttons - $1.50 + shipping ($1.00)
OMAHGAWD BUTTINZ. Decorate ALL the things.
One inch pin back mylar covered buttons - pepper them over your bag, your jacket, your socks, your bedpost, your altar, your mom.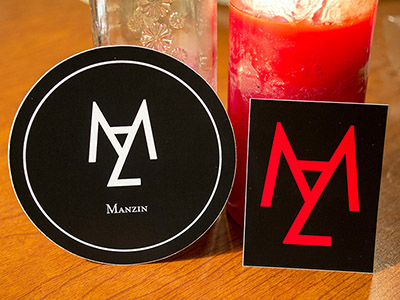 Manzin Stickers - $2.00 + shipping ($1.00)
Not for use as pasties. Anything but that. I beg of you.
Grab My Package #1 (both buttons + both stickers)- $6.00 + shipping ($2.00)
Be the envy of your entire friendlist. Package #1 is both stickers and both buttons. Buy together and SAAAAAAAVE.